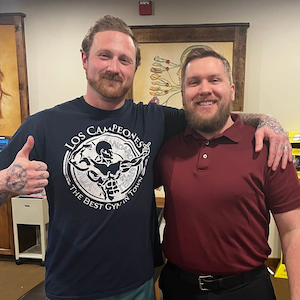 Northern Life Wellness Reviews
What Our Burnsville Patients Say
We love when patients share their experiences with us! Check out some of our testimonials from others who we've helped get back the life they deserve.
If you want to share your story, we'd love to hear from you! Leave us a Google Review now!
CONTACT US


Fewer Pains
"I compete in Weightlifting and Scottish Highland Games, neither of which is good for keeping the spine in line. Dr. Jeff's treatment and advice keep me in competitive form and help me recover from injuries faster. I also found that with regular adjustments I get fewer colds, congestion and fewer headaches than before."
– Jeff B.
Great Improvement
"Dr. Jeff took X-rays and discovered that we both had spines that needed a little TLC and frequent visits to adjust and begin to correct our misalignments, bone spurs, and scoliosis. After one year of consistent visits our follow up X-rays look great and show signs of change and improvement. We also feel better and have less pain and problems."
– Scott & Amy H.
Applause Practice
"After my second adjustment, I could really see a difference! At that point I could get out of my car without the 'take your breath away' pain. I am about halfway through the first phase of my treatment program and am functioning almost normally. I am nearly pain free in the evenings now! I really applaud Northern Life Wellness! Everyone there knows me by name, and I can really tell that they care about their patients. This is what health care should be like!"
– Linda S.
Back and Ear Improvement
"One of the additional benefits besides making my low back feel better has been a middle ear infection I have had for a few years that has cleared up. Doctors said if it happened again I was going to have to have tubes put in my middle ear to promote drainage."
– Pete P.
Stronger
"I have had pain in the neck and lower back, with which I have struggled with since I was 12 years old. The MD said it was Spinabifida and a Spondylolithesis. He recommended stretching and exercise, but I felt worse. After Chiropractic I feel VERY GOOD! I am more flexible, able to exercise and I am stronger. I am confident with Chiropractic that I can continue to progress."
– Bernie B.
Restored Mobility
"Chiropractic has lessened the pain and soreness and restored a great deal of mobility. It also has given me a tremendous decrease in headaches and increases in energy and stamina. Not only has Chiropractic helped restore my health, but has restored my hope that my life is not over or destined to excruciating pain. In short, each adjustment enhances a positive attitude and outlook for the future! Thanks to Dr. Jeff and Staff!"
– Anne M.
Better Results
"I have been under the care of Dr. Jeff for about one year and have had better results than years of doctoring with an MD. My back has strengthened considerably and is much easier to adjust. I am not able to broaden my activities, including gardening, lawn work and my senior care duties. Thanks to Dr. Jeff, it (chiropractic) is working!!"
– Lois P.
Improved Concentration and Energy
"Seeing Dr. Jeff has reduced the pain that I have lived with for years. Chiropractic has improved my ability to concentrate and my activity level. This has improved both my home life and performance at work. I have also been a bowler for years and never got my average above 175. Since I started seeing Dr. Jeff my average has risen to 198!"
– Robert T.
Improved Allergies
"This is the first springtime in 20 plus years that I haven't taken over the counter medication or prescription for my allergies, and I see that as an additional result of the Chiropractic care I received!"
– Glenda L.
No More Pain
"Getting up in the morning I was like a crippled old man. All my joints ached, my back was sore and my neck burned. After Chiropractic care I can not believe how good I feel! NO more aches and pains, which I thought were a part of getting older. It's not true! Chiropractic has CHANGED MY LIFE! Back to lifting weights!"
– Ron M.
Pain Free!
"Out of desperation I came to see Dr. Jeff. I was in such pain I could hardly walk. I was supposed to go on a trip to California and thought I would have to cancel it due to the amount of pain I was feeling. I had two treatments with Dr. Jeff and had a major improvement right away. One week later and I was pain free! I have not felt this great in years!"
– Nancy E.
Got Life Back
"Outstanding…It's a Miracle…I feel like my life is back!"
– Pat V.
Headache Free
"After returning to Dr. Jeff he and his staff made arrangements to see me as frequently as possible for 4 to 6 weeks. I am once again headache free!"
– Gayle K.
Great Personal Care
"Awesome front desk service. Always there with a smile and warm greeting. Comfortable family style environment. Great personal care!! You are in good hands with Northern Life Wellness, Thanks!"
– Jennifer L.
Highly Recommend
"My family has been privileged to go to Northern Life Wellness weekly for the last 5 months. You have worked with my family of 5 children and 2 foster children to give us an affordable monthly plan…since we have started coming to Northern Life Wellness there has not been any sickness in our house which is absolutely unheard of for us historically…I simply cannot recommend you enough to friends and family. Thank you for your care."
– Ryan B.
Friendly and Skilled Team
"All the staff at Northern Life Wellness (from the Doctors, Administrative Team, Physical Therapy, and Body Kneads Massage) are highly skilled and very friendly. I've been going to the clinic for help with migraines and have made significant progress in decreasing the severity of my migraines. Quite an improvement in the quality of my life! Thanks Team!"
– Pam P.

Northern Life Wellness Reviews | (952) 890-0804