New Patients at Northern Life Wellness
At Northern Life Wellness, we believe health care shouldn't be anything other than extraordinary. That's why we've created a bold team of rock star practitioners, and built a facility that feels more like home than a medical office. But don't take our word for it, contact us to schedule your first appointment, and let's follow the steps we'll take together on your journey to wellness!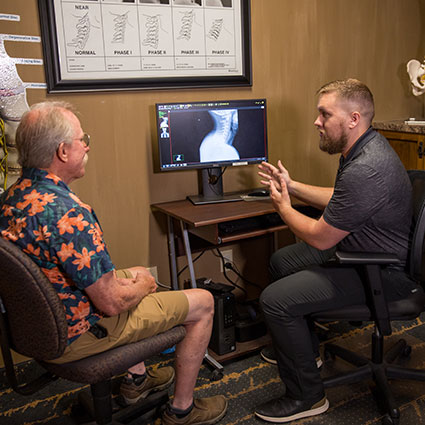 Day 1: Fact-Finding
Day 1 at our office is not only your first visit at Northern Life Wellness, but also the first day on your journey to setting your health on track to being your best you. We know your time is valuable, so we recommend you complete our intake paperwork ahead of time and bring it on your first visit.
We listen to your health concerns and priorities, so we gather information to help us better understand how we can help you. With a thorough consultation, completing an orthopedic and neurological exam, and taking appropriate X-rays, we can actually see the issues that need to be addressed.
The Day 1 visit is designed to be focused and thorough, motivating and educational, while also honoring your time, lasting about 45 minutes.
Day 2: Report of Findings
Your second visit is called the Report of Findings (ROF). This is when your doctor explains and shows you what's causing your problem, whether we can help, how we intend to fix it, how long it will take to correct, and how we can do it affordably.
During your ROF and future visits, it's our priority to deliver exceptional care while educating you on the why behind what you're feeling. To provide you with the results you want, we need you to be confident in us, and the steps we're taking to get there.
Care Made Affordable
Everyone who walks through our doors has more in common than they'd think—there's something hindering them from doing the things they love most. To give each of our patients the care they need to overcome their health barriers, we offer various affordable care plans and accept several forms of payment.
Your doctor will discuss which type of plan and form of payment is best for your family during your ROF. If you choose to start care, below are a few frequently asked questions about paying for care.
Frequently Asked Questions
Most often, yes. While each has its own specific rules, we can offer detailed receipts for you to submit to your HSA or FSA.
Yes, we take all forms of health insurance. Each person's coverage is dependent on their individual policy. We also offer Health Care Made Affordable plans that are often comparable to the cost of an average co-pay.
Because every policy, insurance company, and family is different, we've found it's best for our team to check any insurance coverage leading up to your ROF, so you and your doctor can discuss the best payment option for you and your family.
Can I still use my insurance if it's out of your network?
Yes. Being out of network with an insurance company means a provider, such as a wellness clinic, hasn't signed a contract obliging them to the restrictions of the insurance company. There are several ways that using out-of-network insurance coverage can be beneficial, but like many insurance-related questions, looking at your specific coverage with your doctor is the best way to determine which payment options will be the best fit for your family.
Time to Book?
Ready to ignite your health? Schedule a visit today!
CONTACT US

New Patients at Northern Life Wellness | (952) 890-0804